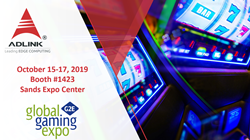 Within the gaming industry, a fully functional logic box solution is critical for meeting modern customer demands for rapid time-to-market technology requirements.
SAN JOSE, Calif. (PRWEB) October 10, 2019
ADLINK Technology Inc., a global provider of leading edge computing solutions for the entertainment industry, will showcase its latest embedded solutions, including boards and systems for gaming, at the annual Global Gaming Expo (G2E) 2019 in Las Vegas, NV from October 15-17, 2019 in Booth #1423. As a NVIDIA® Quadro® Embedded Partner and Jetson™ Preferred Partner, ADLINK is proud to release its updated product line, the ADi-SC1X/2X, which features all-in-one embedded slot-in systems with backplane architecture, integrated socket-type Intel® embedded processors, and optional NVIDIA® embedded graphics for high-performance multi monitor applications.
Among the products and demos that will be displayed in the booth include:
ADi-SC1X/2X Series: Featuring highly modular and flexible robust slot-in platforms with new, scalable backplane architecture, with NVIDIA® GPGPU MXM module or chip down design
ADi-SA1X/2X Series: High-performance gaming platforms that support up to eleven independent displays, creating the ultimate "all-in-one" 4K UHD gaming experience
ADi-SIOG-LEC1: Modular I/O controller with carrier boards that enables generic boards/systems to become gaming systems. I/O customization is made easy with its module and carrier board combination, while deployment is simplified with the support for ADiDLL and ADiAPI.
AmITX/KB/SL/RZ Series: Mini-ITX Gaming Motherboards supporting the latest Intel® and AMD processors, delivering a high performance and space-saving platform with up to 10-15 years' longevity support
NVIDIA Quadro Embedded Graphics Cards: From MXM form factors to PCI Express graphics cards, delivering powerful gaming experiences with up to 5 years' longevity support for embedded gaming applications
Smart Touch Panel Computers: From digital kiosks to highly interactive table gaming experiences, the Smart Panel is an embedded open frame panel computer with the ability to integrate into a wide variety of form factors and configurations
"Within the gaming industry, a fully functional logic box solution is critical for meeting modern customer demands for rapid time-to-market technology requirements. We take pride in our updated 2019 product portfolio, which includes comprehensive application-ready intelligent platforms, Mini-ITX gaming motherboards, and multi-display graphics cards that create seamless multimedia experiences for a variety of gaming applications," commented Oliver Merfels, Director of Infotainment at ADLINK.
Visit us in booth #1423 in the lower level of Sands Expo Center during G2E to view our new products, experience our demos, and speak with one of the company's experts.
For more information on G2E, please visit ADLINK's company profile on the show website at: https://www.globalgamingexpo.com/en/Exhibitors/5368120/Adlink-Technology
To view additional information on ADLINK's application-ready intelligent platform and embedded solutions, please visit ADLINK's website at: https://www.adlinktech.com/en/Infotainment.aspx
About ADLINK    
ADLINK Technology is a global leader in Edge Computing. Our mission is to facilitate the use of advanced technologies to help optimize the business performance of our customers. We provide robust boards, platforms and user interfaces; real-time data connectivity solutions; and application enablement for state-of-the-art industrial computing, such as machine learning via AI-at-the-Edge. Together, these also enable innovative end-to-end IoT solutions in support of operational excellence or new revenue streams. ADLINK serves customers across vertical markets including: manufacturing, networking and communications, healthcare, infotainment, retail, energy, transportation, and government and defense.
ADLINK has a growing eco-system of industry leading technology partners; we are a Premier Member of the Intel® Internet of Things Solutions Alliance, a strategic embedded partner of NVIDIA, and an active contributor in many standards and interoperability initiatives, including Eclipse, ETSI, OCP, OMG, OpenFog, PICMG, ROS-I, and SGET.
ADLINK's products are available in over 40 countries, either directly or through our worldwide network of value-adding distributors and systems integrators. ADLINK is ISO-9001, ISO-14001, ISO-13485 and TL9000 certified and is publicly traded on TAIEX (Stock Code: 6166).
For more information, please visit: http://www.adlinktech.com
All trademarks are the property of their respective owners in the U.S. and other countries.
Share article on social media or email: