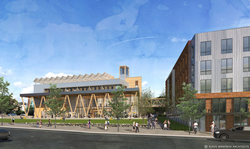 BIRMINGHAM, Ala. (PRWEB) December 18, 2019
Capstone Development Partners ("Capstone"), a national student housing real estate developer specializing in on-campus public-private partnerships ("P3"), is pleased to announce it has been selected by the University of Maine System ("UMS") to develop a new student housing and student center community ("Project") on the University of Southern Maine's ("USM") campus in Portland. Capstone and UMS will immediately enter into negotiation of contractual agreements for the Project as they work through the planning, design and permitting phases towards a financial closing and groundbreaking of construction in Spring/Summer 2020.
The proposed Project contemplates a 577-bed apartment-style residential community ecompassing approximately 209,000 SF of residential and support spaces. Capstone will arrange the financing of the student housing component while the University will provide the financing for the Student Center component. As developer, Capstone will lead the planning, design and construction of both the student housing and student center components.
Capstone's design-build team for the Project includes: SMRT Architects and Engineers, a full-service architecture and engineering firm headquartered in Portland, ME; Elkus Manfredi Architects, an award-winning architecture firm with extensive student housing design experience, based in Boston, MA; and the Portland office of PC Construction, a Burlington, VT-based contractor with a breadth of experience constructing facilities on college and university campuses throughout Maine and Northern New England. Capstone Management Partners, Capstone's subsidiary management company, is the proposed maintenance and operations service provider for the residential community.
The Project will be designed and constructed to incorporate Passive House sustainability standards, and meet or exceed LEED Silver standards. The Project is also proposed to utilize cross laminated timber (CLT) components, a sustainable construction material.
"Capstone is thrilled to be selected as the UM System's and USM's partner for this exciting student support initiative for the Portland campus. We look forward to collaborating with the University of Maine System and USM in the coming months on this first P3 project for each, and to working diligently to negotiate our Project agreements, refine our design concepts and prepare for the financial closing and construction groundbreaking in 2020. Upon completion, this new housing and student center community will provide an attractive, safe, and comfortable home for generations of students on the Portland campus, supporting the University's goals for student recruitment, retention and academic success," said Jeff Jones, Capstone Principal.
About Capstone Development Partners
Capstone Development Partners, LLC is a leading national student housing real estate developer specializing in on-campus public-private partnerships. The company holds offices in Birmingham, Alabama and Denver, Colorado. Its principals, Jeff Jones and Bruce McKee, have more than 45 years combined experience as leaders in the higher education student housing sector. Since 1997, the principals of Capstone have partnered with nearly 70 public and private colleges and universities and delivered more than 44,000 beds of student housing nationwide. For more information please visit http://www.capdevpartners.com.
About SMRT Architects and Engineers
SMRT is a team of architects, engineers, planners and professionals committed to solving problems through design. We specialize in creating complex, 24-7 facilities for clients with challenges in education, healthcare, science/technology/industry, justice, government and workplace environments. Collaborating with our clients, we focus on delivering buildings that further their business objectives through strong design, sustainable infrastructure and high functionality. You'll love how we work – together. smrtinc.com
About Elkus Manfredi
Elkus Manfredi Architects is focused on creating dynamic, connected, sustainable environments, from the smallest workplace to urban neighborhoods around the country. The firm provides a synergistic combination of services—from architecture and interior architecture, to master planning and urban design. With a 30+ year legacy of design distinction, the firm is recognized for its work with higher education, corporate, life sciences, hospitality, residential and retail-entertainment clients. The firm's portfolio of work for higher education institutions includes a rich diversity of campus master plans, academic buildings, and mixed-use student housing design. Elkus Manfredi is driven to design vibrant, connected environments that enhance the quality of life and creates common ground that brings people and communities together.
About PC Construction
About PC Construction: PC Construction offers general contracting, construction management and design-build services to private and public clients across the country. The company manages projects along the east coast and in the southeastern United States from its headquarters in Vermont and a network of locations in Georgia, Maine, New Hampshire, New York and North Carolina. A construction industry leader for 60 years, PC Construction is guided to success by its team of dedicated employee-owners. Connect with PC at pcconstruction.com.
Share article on social media or email: