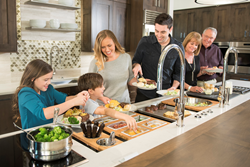 Our goal is to make The Galley synonymous with the term 'kitchen workstation' the way Sub-Zero is shorthand for 'refrigerator' with design-minded New Englanders.
MILFORD, Mass. (PRWEB) November 04, 2019
Clarke Distribution, owners of New England's Official Sub-Zero/Wolf/Cove Showroom and Test Kitchen, has signed an agreement to become one of two U.S. master distributors for The Galley. The Galley represents a whole new category of kitchen appliance: a complete culinary system where one can prepare, cook, serve, entertain and clean all in one central and convenient place. The Galley is revolutionizing kitchen design. Clarke started representing The Galley on Nov. 1, 2019.
"The Galley is very pleased to partner with Clarke to introduce our full line of innovative kitchen design products to New England," announced Galley CEO Scott Anderson. "The Galley product line is diverse and includes a complete line of Kitchen Workstations, WashStations™, Barstations®, Taps, BarTaps®, and Hot & Cold Taps, as well as the award-winning Galley Dresser®. The Galley's innovative, thoughtful designs that solve so many problems in the kitchen have been met with great enthusiasm in the North American market. We know Clarke's passion for unparalleled brands will help to highlight our story in a unique way and expose thousands of homeowners to the incredible function of this scalable solution for New England homes."
"We are thrilled to add The Galley to our offering of world-class kitchen brands," said Clarke President Sean Clarke. "We know this highly engineered, hand-crafted, made-in-America line of kitchen workstations will be embraced by our design partners and discerning homeowners throughout the region. Our goal is to make The Galley synonymous with the term 'kitchen workstation' the way 'Sub-Zero' is shorthand for the refrigerator with design-minded New Englanders."
All three award-winning Clarke showrooms, (in Boston Seaport and Milford, Massachusetts, as well as South Norwalk, Connecticut), will showcase The Galley line in the coming months. The line is already on display in Clarke's South Norwalk, Connecticut showroom.
The Top 3 Reasons to Visit Clarke to Learn About The Galley
1. Expertise - More than 75% of recent visitors to a Clarke showroom report that the expertise of Clarke's showroom staff is the top reason to visit. The Clarke team has already enjoyed extensive training at The Galley headquarters and factory in Oklahoma and will continually incorporate updates into their showroom tours. A visit to a Clarke showroom allows architects, designers, and homeowners to explore The Galley, ask detailed questions and envision how the epitome of workstations will enhance their kitchen design.
2. No Sales Pressure - The Galley, like all Clarke products, will be sold through a select network of dealers throughout the region. This ensures that there is never any pressure to purchase in the showroom while learning about the products. Designers or homeowners will receive a planning budget for their selections and a contact for their local dealer where final details will be discussed.
3. Customization - Designers can learn how to incorporate The Galley functions and accessories into their chosen line of cabinetry to marry their proprietary design with the elegance of this workstation concept.
The Galley has been showcased on "The Today Show," named one of the "Hottest Trends" at the Architectural Digest show and ranked #1 in Remodeling magazine's top 5 products.
To make an appointment to explore The Galley at a Clarke showroom, click here.
About The Galley
The Galley has introduced a whole new category of kitchen appliance, the kitchen workstation. Inspired by a desire to find solutions to problems that had existed for years in the way kitchens worked, (or didn't work), the Galley Workstation, Galley Tap, and Galley Dresser were invented to create a super-functional workstation hub where every task in a kitchen could be accomplished in a central place. Highly engineered and hand-crafted in the USA, with an unbridled commitment to the highest standards of quality and service, The Galley is now leading the kitchen industry in innovation, function, and just pure fun. The Galley products are sold exclusively through independent specialty plumbing, appliance, and kitchen design showrooms. For more information, visit thegalley.com.
About Clarke
Clarke is New England's Official Sub-Zero, Wolf & Cove Showroom and Test Kitchen, with locations in Boston Seaport and Milford, MA, as well as South Norwalk, CT. Clarke's hallmark is an exclusive Appliance Test Drive, where homeowners can actually cook on Wolf appliances to best select the models that will enhance their lives. Visitors can see more models of Sub-Zero, Wolf, Cove, ASKO and The Galley at Clarke than anywhere else in New England. Clarke sells its brands through an exclusive network of authorized retail dealers in all six New England states. In addition, the company also offers Clarke Customer Care, a dedicated Sub-Zero, Wolf, Cove and ASKO repair service that has earned them top customer satisfaction ratings in the U.S. For more information, visit clarkeliving.com.
Share article on social media or email: