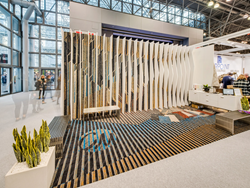 "Hearing their interpretations of our design concept and what it meant to them was music to my ears. It was as if our carpet had a voice." Justin Frye, Design Director for CM Hospitality Carpets
NEW YORK (PRWEB) November 19, 2019
CM Hospitality hosted their annual corner 10x20 booth at BDNY in NYC where they debuted their new Correlated Collection. On the first day of the two day hospitality industry trade show, IFDA's judges walked the show floor and voted CM's booth Best In Show for Most Innovative Booth. IFDA or International Furnishings and Design Association's members are executives and companies professionally engaged in the design, production, distribution, promotion, communication or education in the furnishings and design and related industries.
'We are so honored to be recognized by IFDA," says CM President and CEO, Hugh McClain "- and I'm so proud of our team for pulling this off flawlessly."
Justin Frye, CM's Design Director was inspired by an unique art piece that showed multiple patterns through wooden slats as you moved around the sculpture. One of the judging designers, Laurie Vega, was particularly moved by CM's booth because it brought back fond memories of her childhood. The wall feature reminded her of seeing motion turn to patterns from bright colored graffiti that she took in each time she rode the subway home.
"Hearing their interpretations of our design concept and what it meant to them was music to my ears," admits Frye. "It was as if our carpet had a voice."
For the first time in his career, David Hamilton, Senior Designer for CM was excited to be able to attend BDNY and meet designers face to face. David Hamilton and his colleague Nathan Hammett both were key contributing designers in creating the patterns found in the Correlated catalog. "My first experience at the BDNY show was truly a pleasure, and I am so proud to be part of the great CM Hospitality team that put together an award winning booth!"
Frye's concept was turned into a full catalog of patterns for guestroom and public spaces that will be the next installment to the Geometric pattern portfolio that is part of CM's Design Essential Tool Set. The Design Essentials Tool Set was launched at last year's BDNY show and is a series of pattern portfolios designated by category that also include Classic, Texture and Organic. CM is also set to launch a Texture catalog of Sisal patterns this winter.
Share article on social media or email: