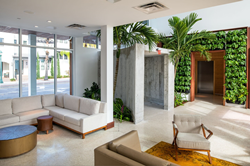 The artistic and elite Sarasota Modern is a great addition to Crescent's lifestyle Latitude Collection
SARASOTA, Fla. (PRWEB) December 16, 2019
The Sarasota Modern, a Tribute Portfolio Hotel, will join Crescent Hotels & Resorts "Latitudes" collection of lifestyle resorts. Crescent & Latitudes, based in Fairfax, Virginia is a nationally recognized operator of major hotels and resorts throughout the United States and Canada.
An architectural fixture of the Rosemary District just steps from downtown Sarasota, the boutique hotel has created a series of micro-paradises that challenge the conventions of hospitality, delivering highly curated living experiences to promote both internal and external discovery.
"The artistic and elite Sarasota Modern is a great addition to Crescent's lifestyle Latitude Collection," said Michael George, Chief Executive Officer of Crescent Hotels & Resorts. "Crescent's exceptional service as a manager of unique resorts, combined with our award-winning experience in managing boutique properties, will maximize the potential of this luxury hotel."
The lifestyle hotel features custom designed room type and features, private balconies overlooking spectacular pools and private cabanas, restaurant & lounge including outdoor terrace dining, a private dining room, fitness center, and lovely event space.
For more information, to book your stay at the Sarasota Modern, visit http://www.marriott.com or call 941-906-1290.
About Crescent Hotels & Resorts
Crescent Hotels & Resorts is an award winning, nationally recognized, operator of hotels and resorts. Crescent currently operates over 100 hotels & resorts in the United States & Canada. Crescent is one of the few elite management companies approved to operate upper-upscale and luxury hotels under the brand families of Marriott, Hilton & Hyatt. Crescent also operates a collection of lifestyle independent lifestyle hotels and resorts under the Latitudes Collection umbrella. Crescent's clients include premiere REITs, private equity firms and major developers. For more information, please visit http://www.crescenthotels.com and http://www.latitudesbycrescent.com or connect with Crescent on LinkedIn.
Share article on social media or email: