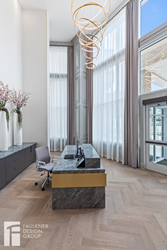 DALLAS (PRWEB) December 21, 2019
Faulkner Design Group is pleased to announce receiving three awards and one nomination in the 6th annual Senior Housing News (SHN) Architecture & Design Awards, sponsored exclusively by senior living furniture provider, Kwalu.
Recognition includes the following projects and categories: Anthology of the Plaza in Kansas City, MO, first place winner for Renovation or Repositioning; Faith Presbyterian Hospice in Dallas, TX, first place winner for Hospice; Arbor Terrace Fulton in Fulton, MD, third place winner for Assisted Living; and The Vista at CC Young in Dallas, TX, nominated for Skilled Nursing/Post Acute Care.
The Senior Housing News Architecture & Design Awards recognize cutting-edge design, excellence and innovation in senior living. The awards contest celebrates unique projects and companies that are improving the lives of seniors through innovative design.
"The annual SHN Architecture & Design Awards continue to attract the most exciting projects in senior housing from across the U.S. and around the world," said George Yedinak, founder of Senior Housing News. "Senior living owners, operators and developers are working with world-class architects and designers to create the next generation of senior living."
A panel of industry experts judged the projects, evaluating nominees based on design and aesthetic criteria. Not only did judges analyze design elements such as color, light and landscape architecture, they also considered community functionality by analyzing key features that are critical to property type, such as universal design techniques.
About Kwalu
Kwalu is the leading provider of furniture to senior living in the U.S. Its products are Designed to Last® and will continue to look like new, year after year – which is so important right now, given the trend of residents' rising acuity levels and the resultant ongoing beating the furniture takes from walkers and wheelchairs and the like. When attracting new residents and maintaining high satisfaction levels for existing residents is important, Kwalu's senior living furniture can make the difference.
About Aging Media Network / Senior Housing News
Aging Media Network is an innovative publishing company based in Chicago, Illinois, and is the publisher of Senior Housing News, Reverse Mortgage Daily, Home Health Care News and Skilled Nursing News. Senior Housing News (SHN) is the leading independent source for news and information covering senior housing and senior living. With a global reach of more than 30,000 industry professionals, SHN boasts an audience that includes senior housing operators, developers, banking institutions, real estate investment trusts, private equity and service providers catering to the industry. Visit http://www.seniorhousingnews.com for more information.
About Faulkner Design Group
Faulkner Design Group, Inc., is a fully integrated and highly-awarded national interior architecture and design firm specializing in multifamily housing and senior living environments, completing over 750,000 units in more than 2,000 communities across 37 states, from Hawaii to New York, and even Canada, working with the largest developers, contractors, real estate investment groups, and management firms in the country for over 27 years. These communities are surpassing the industry standard for creativity and quality, earning a reputation as the most highly sought-after properties on the market. FDG offers comprehensive design services during the architectural development and construction planning phases of projects, leading the industry with cutting-edge virtual tools and technology, approaching each design solution as a fingerprint in which no two are alike.
Share article on social media or email: