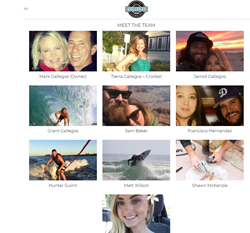 We have added more services, more employees, more trucks and more equipment in 2019 to better serve our Customers. Jarrod Gallegos, President of Gallegos Plumbing
VENTURA, Calif. (PRWEB) November 27, 2019
"We are constantly investing in the newest plumbing equipment on the market to broaden the services we can offer to our customers, as well as efficiently get jobs done, "says Jarrod Gallegos, President of Gallegos Plumbing. "Our goal is to continue to expand our services, staff, fleet and service areas our valued customer base. Our current customer base is mainly in the cities of Ventura and Ojai but are slowly but surely getting new lifelong customers from Port Hueneme to Thousand Oaks and as far up as Santa Barbara," Jarrod Gallegos added.
The fast growth has also been in personnel for the Ventura plumbing company. Gallegos Plumbing has hired many new experienced plumbers and is seeking more every month. "We are looking for the right technicians the meet not only our technical skills level, but also in courtesy and communication areas so that our Clients are always happy to work with Gallegos Plumbing," President Jarrod Gallegos states.
The newer, less invasive, trenchless sewer line replacement equipment is very specialized and expensive to acquire. Gallegos is committed to offering these new services through smaller plumbers also who can't necessarily afford the equipment or don't provide this service very often.
"One of the things I am most excited about that we've recently added to our business is offering trenchless sewer repairs/replacement to contractors. We are making it affordable and still profitable for other plumbing contractors or companies to perform the most cost effective least invasive ways to replace sewer drains by means of Trenchless pipe bursting and CIPP (cured in place pipe)," says Jarrod Gallegos.
Gallegos' Key Services, for both Residential and Commercial Clients:
About Gallegos Plumbing
For over two decades, Gallegos Plumbing has offered expert residential and commercial plumbing services. Gallegos Plumbing has earned a reputation for honesty and integrity. They are happy to provide a 'second opinion' on any work you have been told you may need to do.
Gallegos is located at 1387 Callens Road, Ventura, CA, but services areas from Santa Barbara, Ojai, Ventura to the ocean, down to Oxnard, Camarillo, Thousand Oaks, Agoura Hills and Calabasas.
Visit GallegosPlumbing.com to learn more or call them at 805-750-1830 to schedule service today.
Happy Holidays to Everyone from the Gallegos Plumbing Team! We hope everyone has a happy and productive 2020!
Share article on social media or email: