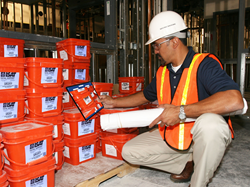 By eliminating approval complexities, surprises in the field and incorporating automation, QRXpert rapidly resolves installation disputes, saving time and money for all.
LA MIRADA, Calif. (PRWEB) December 04, 2019
ISAT Total Support, an industry-leading engineering and product solutions provider for installed MEP systems in commercial construction, announced a powerful quality assurance program accessible via a new app called QRXpert. The development of the app is in response to clients increased use of mobile devices and an expressed interest in expediting project workflow, communication and readily available access to project documents. Installation of nonstructural seismic bracing is common practice, but the complications of varying site-specific seismic requirements and the challenges of getting approved submittals into the hands of the installer, creates the opportunity for noncompliant installations and rework.
QRXpert is used in conjunction with ISAT seismic bracing kits. Each seismic location has its own unique QR code within the submittal drawings and labelled on each kit. By opening the app and scanning the code, field personnel can instantly view the approved location specific installation details that streamline the seismic installation. This feature of the app is completely free of charge and can be used on any project where ISAT orange kits are found.
Customers that would like to take additional steps to ensure proper installation can unlock the inspection and quality control portion of the app that integrates ISAT's QR field tagging system. An additional tag can be included in each kit and hung at the completion of installation, allowing all field personnel and inspectors to verify accurate installation. Team members using the QR tag system also gain access to location specific seismic bracing quality control checklists that can be updated in real-time. These checklists are color coded and can be generated for distribution to all parties involved on the project.
"We live in a time when building requirements and their complexities are more elaborate than ever", said ISAT Vice President Jim Massey. "As the use of mobile devices continues to increase in the field, we need to examine project inefficiencies and determine how we can utilize technology to improve the process. By eliminating approval complexities, surprises in the field and incorporating automation, QRXpert rapidly resolves installation disputes, saving both time and money for all."
For more information or to request a demo, visit http://www.isatsb.com/qr.php. QRXpert can be downloaded from Google Play, as well as the App store from Apple.
About ISAT Total Support:
ISAT Total Support delivers a comprehensive family of industry leading Mechanical, Electrical and Piping support solutions and services. Empowered by innovative ideas ISAT produces support solutions that target lowering the cost of installed systems on projects. ISAT has redefined the manufacturer contractor relationship by strategically utilizing the horsepower of over 300 engineers, project managers, BIM modelers, fabricators and assembly craftsmen as a true partner to drive down installed labor costs for our customers.
Share article on social media or email: