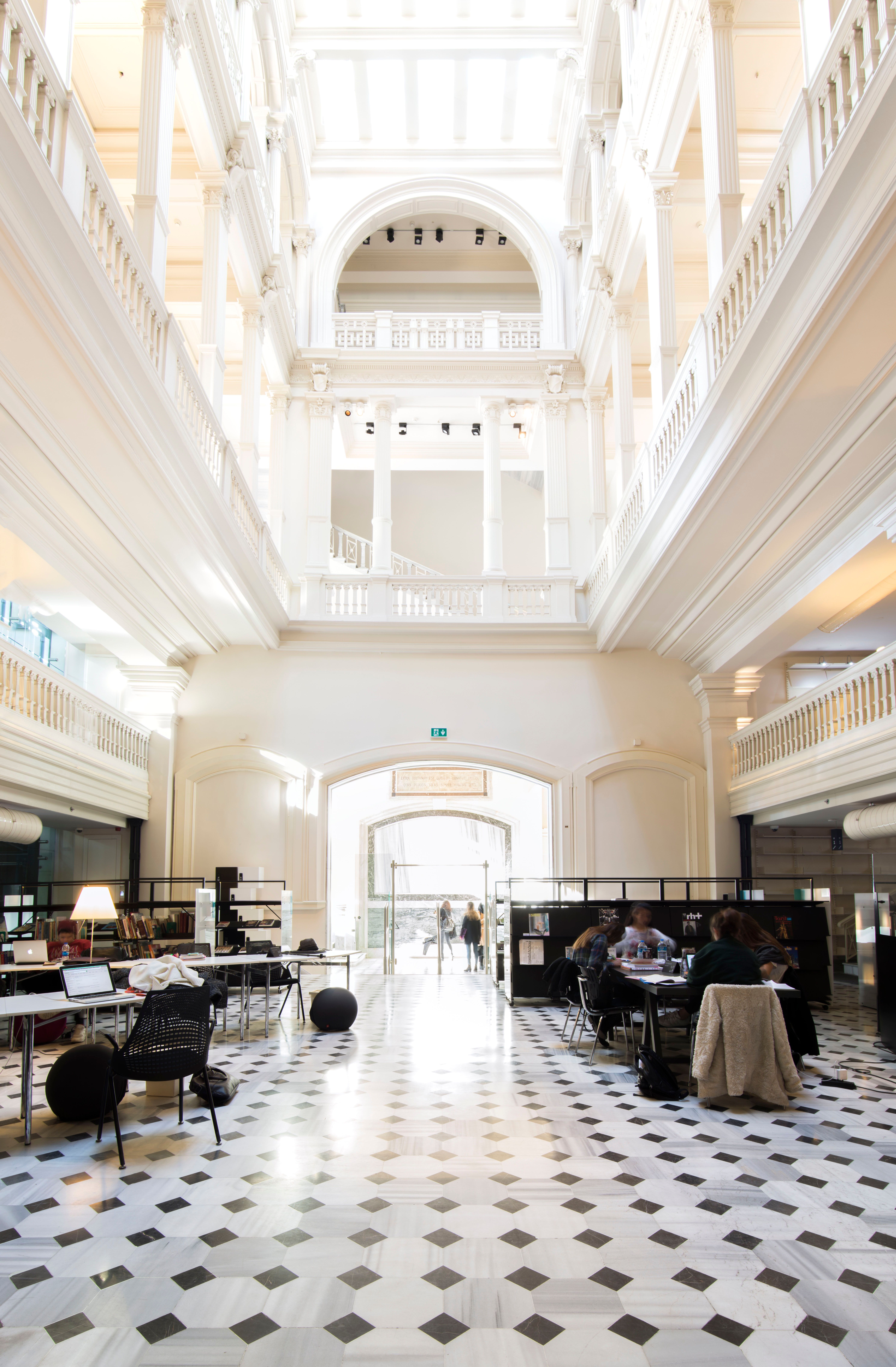 At the crossroads of Europe and Asia, Istanbul is steeped in Roman, Byzantine, and Ottoman history. Its design heritage is just as rich, a colorful swirl of hand-woven carpets and ancient mosaics. But on the cusp of the 4th Istanbul Design Biennial (September 22–November 4), presented by the Istanbul Foundation for Culture and Arts (İKSV) and sponsored by Turkish bath company VitrA, the city is abuzz with talk of innovation. That's exactly what Jan Boelen, who curated the show with the designers and writers Nadine Botha and Vera Sacchetti, wanted. Entitled "A School of Schools," this year's incarnation of the event emphasizes investigation and critical, radical thinking, transforming six prominent Istanbul arts venues—Akbank Sanat, Yapı Kredi Culture Centre, Pera Museum, Arter, SALT Galata, and Studio-X Istanbul—into dynamic, collective, educational hubs that reinterpret the norms.
Boelen, who serves as artistic director of both Z33 House for Contemporary Art in Hasselt, Belgium, and the experimental laboratory Atelier LUMA in Arles, France, also heads the Master in Social Design program at the Design Academy Eindhoven in the Netherlands. The Biennial is an extension of his holistic, boundary-pushing philosophy toward design, encompassing such interdisciplinary themes as the infrastructure of food, the relationship between the planet and humans, and information hierarchies, explored by practitioners from around the globe. Here, the Belgian native talks about craved connections, the proliferation of bland ideas, and how the evolution of design demands a new paradigm for learning.
AD PRO: Do you think that your own work as an educator directly influenced your vision for the Istanbul Design Biennial?
Jan Boelen: Certainly. I cannot deny it. People often ask me how I can work on so many things at the same time, but I see it all as one interconnected project, a kind of attitude to deal with the world shifting. Every year I receive approximately 300 portfolios from people who apply for the Master in Social Design at Eindhoven, and that's to say I'm regularly disappointed by the quality and ambition. The world has changed, so design has changed and education has also changed, becoming more a template that commoditizes the students, the work, and what they propose. They are the result of the template almost, molded by the technology—the renderings, the software—delivered to them. After talking to people in Istanbul and hearing that their education issues were similar to those of other countries, I thought 99 years after the Bauhaus was founded to set up another kind of discussion. How and why do we need design education? What could it look like? What are the new strategies and models?
AD PRO: Instead of curating traditional exhibition spaces, you and your colleagues cleverly reimagined a half dozen of the city's most renowned cultural institutions as schools. What was the inspiration?
JB: For ideas to collide. How can an exhibition inform and how can cultural institutes become alternative places of learning? How can a diverse public gather there, and how can they start working together?
AD PRO: The Biennial aims to engage a wide swath of people, and one of the ways this was cemented early on was the open call for both open-ended school ideas and learners, no matter how scant their design backgrounds, to participate. What was that experience like?
JB: We thought that maybe 100 projects would be submitted and we calculated two days to review them. Then we would announce our selections and work with these 100 people. But more than 750 people applied. It's clear that what we are addressing is urgent, because there were so many proposals and so many people thinking and motivated to collaborate on and discuss this, so we took one step back and left the open call there. We had to rethink: Which projects do we want and how can we fundamentally change the discourse? Which projects are interesting to show? To share? To learn from? Then we looked into an expanded notion of design and how can it develop not only solutions and pragmatic approaches, but how can it be speculative, political, critical, and build relations?
AD PRO: Since being named curator, did you spend much time in Istanbul? What did you observe?
JB: I went every month for several days. I also did an extensive research trip throughout the rest of Turkey to understand the fabric and the society. There's a hunger there to collaborate with the rest of the world. Although Istanbul is a global city it feels, at this moment, in a pocket, a bit isolated. The Biennial helps bridge that gap and build connection. The school model is an answer to the situation. People are so happy to see, to talk, to exchange.
I think you can sense the urgency for change, politically and economically, around the world. Istanbul is a fast-expanding city, and here you can feel the frictions in the contemporary world and how they come together and manifest. But in between the cracks there is a dialogue. We're not ignoring it. We're formulating projects, developing them, and now presenting them.
AD PRO: What do you hope attendees take away from the Biennial?
JB: That they are in doubt. The curatorial statement is really designing doubt. Is what we are doing good or not good? We tend to prefer a mode of consumption in society, but what I want is that we go into a mode of production, an active mode so that people start to participate. We don't want just an institutional approach, creating awareness. I think people are already aware we are in trouble. Our hope is to empower people, to help give them the tools to change something.
More from AD PRO: Has Instagram Made Design Shows Better?
Sign up for the AD PRO newsletter for all the design news you need to know