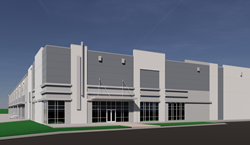 "MDT has a strong track record of investing in the communities in which we serve, and we are thrilled to bring this 253,800 SF facility to the region," said William Fleming, Jr., President and CEO of MDT and MEC
BENNETTSVILLE, S.C. (PRWEB) December 11, 2019
Marlboro Development Team, Inc. (MDT) is pleased to announce the development of a new 253,800 square foot Class A industrial development in the Carolina's I-95 Megasite in Dillon County, SC. Scheduled for delivery in Q3 2020 and located on a 72-acre site within the park, the facility will be designed to accommodate modern logistics and distribution requirements and include tilt-wall construction, full cross dock capabilities, 200' truck court depths, 36' clear height, 50' x 54' column spacing with 60' x 54' speed bays, and expansion capability to 650,000 square feet.
Adjacent to I-95, the facility will be less than one mile from the South Carolina Ports Authority (SCPA) Inland Port Dillon, making it the closest speculative building to the terminal, and the only cross-dock capable speculative building under development in the region.
The new project will mark MDT's third speculative development in Dillon, with Wyman Gordan (50,000 SF) and a confidential manufacturing company (109,200 SF) occupying the previous MDT developed buildings. With control of nearly 4,000 acres surrounding Inland Port Dillon, MDT, along with parent company and electric provider Marlboro Electric Cooperative (MEC), continue to substantiate their commitment to the area in facilitating new capital investment, job creation, and electrical demand.
"MDT has a strong track record of investing in the communities in which we serve, and we are thrilled to bring this 253,800 SF facility to the region," said William Fleming, Jr., President and CEO of MDT and MEC. "Early indications tell us this building won't be available for long so thankfully we have ample acreage to continue these developments into the foreseeable future."
About Marlboro Development Team, Inc.
Marlboro Development Team is a South Carolina based real estate developer focused on single tenant build-to-suits, value-add acquisitions, and strategic investments throughout the United States. The senior management of MDT has a proven track record of 100+ years of development experience with successful delivery of over 10 million square feet across a broad spectrum of development projects including industrial, retail, and commercial.
Share article on social media or email: