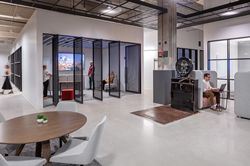 CHICAGO (PRWEB) November 07, 2019
Ferrara relocated from suburban Oakbrook Terrace to downtown Chicago's central business district this week. Once home to the Chicago postal service, Ferrara partnered with NELSON Worldwide to renovate their office space within Chicago's Old Post Office building to support a more collaborative and innovative business model.
NELSON was tasked with designing the new headquarters to accommodate the company's growth and flexibility, provide more meeting and conference spaces to encourage collaboration and information sharing, offer flexible solutions to accommodate unique aspects of Ferrara's diverse brand portfolio, all while honoring the historical characteristics of the Old Post Office building.
Ferrara's new headquarters is a conscious departure from their previous location. Workstations are strategically placed throughout the space, allowing employees better access to each other and to natural light. The floorplan is laid out with one singular path to create a feeling of connectedness while divided into "neighborhoods," each equipped with both small and large-scale conference rooms, huddle rooms, and open collaboration spaces.
The exposed sightlines encourage a more open and transparent culture, while the huddle rooms and private offices still give plenty of options for privacy and concentration. Industrial metal frames are used throughout as subtle space dividers and are infilled with whiteboards and felt panels that serve as tools to encourage brainstorming and innovation.
"This space is about inspiring creativity to nurture community," said Todd Siwak, CEO of Ferrara. "For us, it is a destination reflective of the Ferrara brand and culture. We have beloved brands, a great team, and a bright future ahead of us. Our new office provides ample space for our business to continue to grow enabling our strong forward momentum."
Ferrara's space also captures the importance of commemorating this new chapter for Chicago's long vacant Old Post Office, while reflecting on the past. The design elevates the industrial nature of the building, accentuating the 18-foot-tall ceilings, two vintage mail chutes, and two package scales.
"The design elements offer flexible solutions to accommodate Ferrara's many unique brands," said Theresa Williams, Design Director at NELSON. "The backdrop is clean, industrial, and neutral throughout, so each brand can layer on their own unique style and personality."
NELSON also leveraged its hospitality expertise to design the cafe as a guest-centric space that can be transformed throughout the day from a bustling coffee bar and informal meeting area in the morning, to a happy hour or event venue after hours.
Overall, Ferrara's new headquarters is another stop along the company's journey to becoming the leader in sweet snacking.
About NELSON Worldwide
NELSON is an award-winning firm delivering architecture, interior design, graphic design, and brand strategy services that transform all dimensions of the human experience, providing our clients with strategic and creative solutions that positively impact their lives and the environments where they work, serve, play, and thrive. Our collective network includes more than 1,100 teammates in 25 offices, combining industry experience, service expertise, and geographic reach to deliver projects across the country and around the world. Client partnerships across the NELSON network include: Saks Fifth Avenue, Google, Hershey's, Cisco, Kroger, Simon Property Group, Macy's, Westfield, SAP Fieldglass, HILTON, Target, T-Mobile, Dick's Sporting Goods, American Girl, YUM! Brands, and many more.
Visit http://www.nelsonworldwide.com to learn more.
About Ferrara Candy Company
Ferrara, a company related to The Ferrero Group, is an emerging powerhouse in the North American confections and sweet snacking categories. A passionate team of more than 6,000 employees works together to share delight in every bite through leading brands that have shaped the industry for more than 100 years. Our diverse portfolio of nearly 35 brands includes SweeTARTS®, Trolli®, BRACH'S®, Black Forest® and NERDS®, along with iconic favorites like Lemonhead®, Red Hots® and Now and Later®. Ferrara also manages the Keebler® and Famous Amos® businesses for The Ferrero Group. Headquartered in Chicago, Ferrara has an operational network of 20 locations in North America that includes manufacturing, distribution and R&D facilities. Learn more at http://www.ferrarausa.com.
Share article on social media or email: