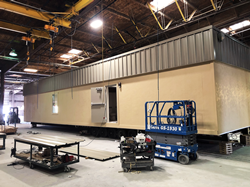 MANSFIELD, Texas (PRWEB) December 17, 2019
Design-build commercial modular construction firm Ramtech Building Systems of Mansfield, Texas has announced that the company has completed the installation of a relocatable modular building for the City of Laredo TX Women, Infants, and Children (WIC) program. The new facility replaced an aging structure at their Rio Bravo, TX location and is the third Ramtech-built facility now in use for the city's WIC program. Using traditional modular construction, the 1,792 square foot floor plan includes rooms for nutrition education, consultation, lab work, office space, and waiting and break areas. The exterior of the building was constructed using a parapet wall design with HardiePanel cement siding and a metal mansard facia band. The interior utilizes vinyl covered gypsum walls and vinyl composition tile flooring throughout the facility. Heating and cooling of the facility is accommodated with a ducted Bard exterior wall-mounted air conditioning unit.
The federally funded WIC program provides grants to states for supplemental foods, healthcare referrals, and nutrition education for low income pregnant, breast-feeding and non-breast-feeding postpartum women, and infants and children up to their fifth birthday. The city of Laredo Health Department began their WIC program in 1980 and now serves 20,500 participants at 15 locations throughout a nine county area. The city expects the new Ramtech facility to handle a monthly caseload of up to 500 women and children.
About Ramtech Building Systems
Since 1982 Ramtech Building Systems has been providing innovative relocatable modular buildings and two types of permanent modular construction for commercial companies, educational institutions, government agencies, and healthcare providers throughout the Southern United States. As a vertically integrated design-build construction company, Ramtech provides full in-house design, a manufacturer direct product, and complete site construction services all within a single-source solution. Ramtech can offer facilities built using permanent modular construction on both a pier and beam or concrete slab foundation. Both options combine the best of off-site manufacturing and on-site construction techniques to produce a building faster and with less cost, but identical in the look, functionality, and life expectancy of a completely site-built structure. By emphasizing a value engineering approach, Ramtech has successfully completed over 4,000 diverse projects of all sizes. For more information, visit the company's website at RamtechModular.com.
Share article on social media or email: