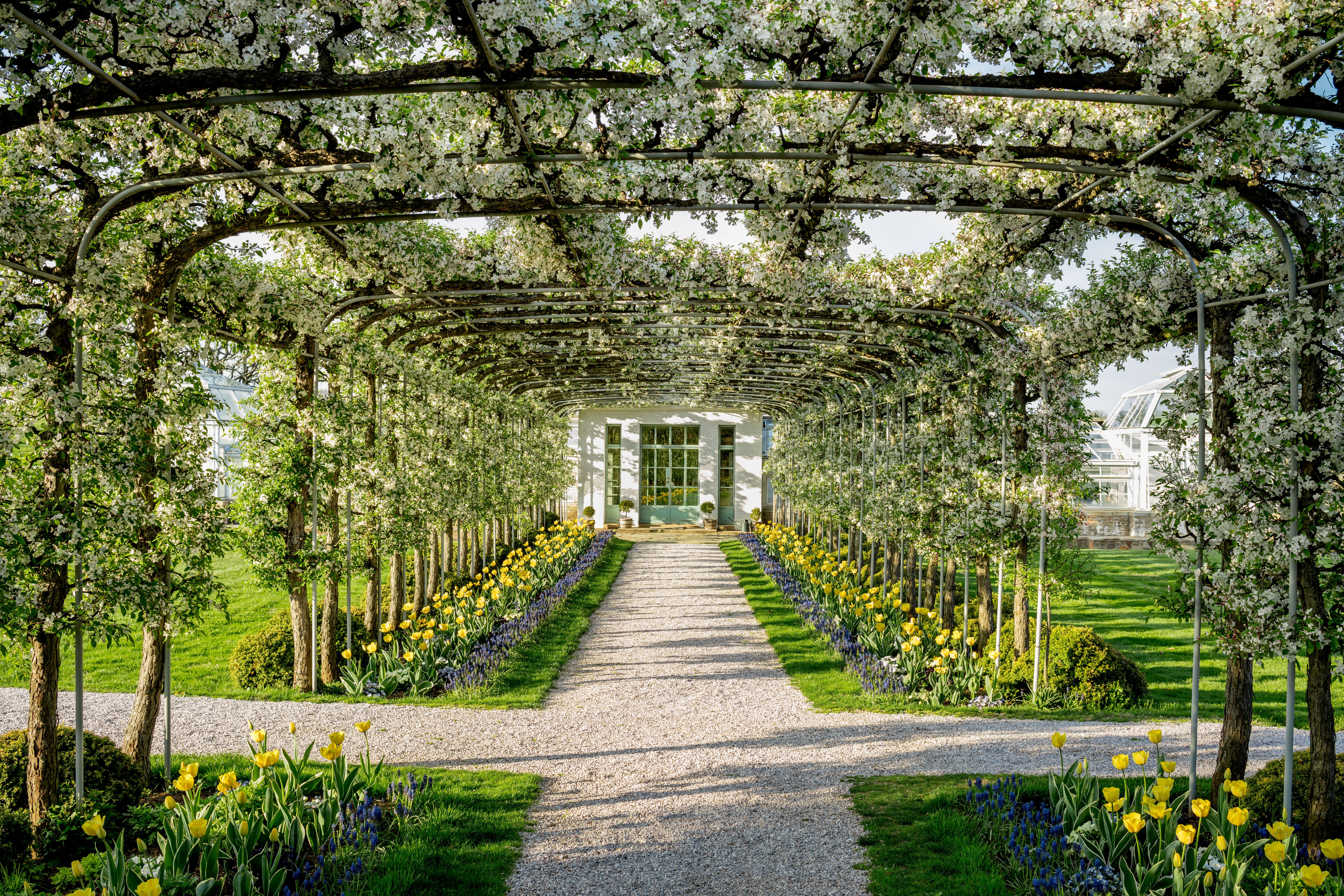 For admirers of the inimitable style of "Bunny" Mellon, and the innate design flair that took her—without formal training—to the White House and Versailles, the upcoming book, The Gardens of Bunny Mellon (Vendome, $60, October is a tome to treasure. "If beauty is the harmonious relationship among parts, then Mrs. Mellon, through the gardens and landscapes she design, was a creator of beauty," writes Sir Peter Crane in the foreword. A former director of the Royal Botanic Gardens, Kew and a former Dean of the Yale School of Forestry and Environmental Studies, today he is the inaugural president of the Oak Spring Garden Foundation.
This foundation, created as a catalyst for fresh thinking on the art of horticulture, is Mellon's dream realized, endowed with $215 million she arranged—in part from the record-breaking Sotheby's auctions of her masterworks, jewelry, and interiors. Oak Spring, her former estate, shadowed by the Blue Ridge Mountains, is set on 700 acres in the rolling Virginia hunt country that she shared with husband Paul Mellon, the art collector, philanthropist, and racehorse breeder. Now open to researchers by appointment, it houses her vast library of garden art, manuscripts, and rare books (some 16,000 objects), which were her "bibles." Many in French and Italian, they helped her learn about garden design, and the Oak Spring gardens were the fruition of her design ideas, led by the ethos that nothing should be noticed, and each plant should complement each other.
In The Gardens of Bunny Mellon, author and White House garden historian Linda Holden delves into the private and rarefied worlds of the Mellons, from Oak Spring, which takes its name from the old oak trees and natural springs on the estate, to New York City to Cape Cod, Nantucket, and Antigua. At Oak Spring, photographer Roger Foley caught the show of seasonal splendor, including the spring flowering of the crab apple trees allée, the garden's landmark feature. In a nod to when the wind whips up a flurry of falling petals, it has been dubbed "snow in spring." Queen Elizabeth was among the visitors here.
Admiring the beautiful environments she cultivated, dear friends began to request her design assistance. It was over lunch on Cape Cod—the Kennedy's sailed over—that then-President John F. Kennedy requested that Mellon redesign the White House Rose Garden as a ceremonial stage (having been impressed by the gardens he had visited in Europe, including Versailles). He also requested that plants featured in the garden journals of Thomas Jefferson be included. Mellon's plan for the Rose Garden came together after a stroll through her Upper East Side neighborhood in Manhattan, where the sculptural beauty of the magnolia trees in front of the Frick Collection caught her eye. She decided to anchor the Rose Garden with four magnolias—one placed at each corner of the garden. After JFK's assassination, Jacqueline continued to seek Mellon's advice and asked her to landscape her late husband's gravesite at Arlington National Cemetery and the grounds of the John F. Kennedy Presidential Library in Boston.
The couturier Hubert de Givenchy was another friend who sought her advice. Shortly after being introduced to Mellon, by Balenciaga, she sent him an order for 100 dresses. At first, author Holden notes, Givenchy was taken aback but then marveled at her efficiency—planning which dress to wear at which house, and sometimes ordering the same style in different colors for different locales. Mellon added drama to the design of the private park at his chateau in the French countryside, and later, when Givenchy became president of the World Monuments Fund, oversaw with him the restoration of the Potager du Roi (Louis XIV's kitchen garden) at Versailles.
It was a long yet cultivated route from her childhood in Princeton, New Jersey, where, born Rachel Lambert, a childhood nurse nicknamed her "Bunny" and it stuck. Her creativity was encouraged by her father, who made Listerine mouthwash—invented by his own father—a household name. Growing up at Albemarle, an 18-acre estate with grounds managed by the Olmsted Brothers, one of her first design projects was for a childhood playhouse, which she created with an elaborate garden. When she died in 2014, at the age of 103, she had ensured that her horticultural legacy would live on.
RELATED: See How a 50-Acre Christmas Tree Farm Is Transformed into a Lush Garden