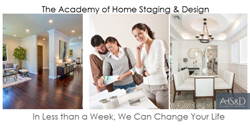 5 day hands on Interior Design Class teaches the principles and practices to create a successful interior design business. Includes 6 Months of Coaching.
LOS ANGELES (PRWEB) September 29, 2019
At The Academy, the instructors are leaders in the industry. With decades of design experience, they know exactly what works in the real world. They will share trade secrets, introduce students to national vendors and give students the foundation they need to succeed as a certified Interior Designer.
Over the course of 5 days the Instructors will lead students through a series of unique exercises that teach the most critical design skills, as fast as possible. These skills will impress clients, allowing students to command higher fees. Students also receive comprehensive business training and client materials that will sets them apart from the competition and empower them to launch their Design Business right away.
The Academy has another important advantage: Included in all courses is a signature, one-on-one mentoring program after the course is completed. The goal is to provide on-going design and business support for continued growth as a creative professional. It's what makes The Academy's training so effective and unique.
Last class of 2019, October 28th- November 1st. Call today: 1-800-574-5576.
Share article on social media or email: