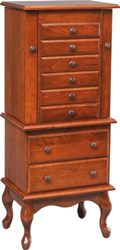 Huge savings off clearance items, jewelry armoires plus all items storewide and a chance to win a $500 gift card highlight Weaver Furniture's After Thanksgiving Day Sale, Nov. 29-30 & Dec. 2.
SHIPSHEWANA, Indiana (PRWEB) November 26, 2019
Christmas furniture shopping kicks off with a bang on Black Friday, as Weaver Furniture Sales of Shipshewana, Indiana, hosts a massive After Thanksgiving Day Sale. The sale takes place Nov. 29, Nov. 30 and Dec. 2, 2019, at Weaver Furniture Sales' 15,000 square foot megastore in Shipshewana, Indiana.
The sale kicks off with huge Black-Friday-only deals. They include savings of up to 65 percent off all clearance items. Also, shoppers can get accessories at 50 percent off. With the purchase of one accessory, customers can get a second accessory at half price. Accessories include wall art, other wall items, table-top pieces and lamps.
What's more, a free mattress protector is available with the purchase of a mattress set. Also, jewelry armoires and jewelry mirrors are available at 20 percent off.
Weaver is also offering savings of 15 percent off all items in the store not otherwise earmarked for sale. This means furniture enthusiasts can shop thousands of items across Weaver's 15,000 square foot showroom. So customers who have been wanting to purchase jewelry furniture, accessories or other pieces of solid hardwood furniture for Christmas are urged to do so now. Because these savings are available for just a few days!
Customers who visit Weaver Furniture Sales during the sale can enter to win gift cards worth up to $500 in Weaver's Christmas Drawing. Entrants must be 18 years of age or order and must register in person. However, one does not need to be present to win.
Weaver Furniture Sales is open daily from 9 a.m. to 5 p.m., and 9 a.m. to 4 p.m. on Saturday. The store is closed on Sunday.
The 15,000 square foot Weaver Furniture Sales is located 1/4 mile south and 1/4 mile east of the junction of State Road 5 and US 20 in Shipshewana, Indiana. So the store is easy to find. Also, you'll see thousands of items to choose from. What's more, you can take your furniture with you. Or, we can deliver.
More information about Weaver Furniture Sales is available at their http://www.weaverfurnituresales.com or by calling 260-768-7730.
About Weaver Furniture Sales
Weaver Furniture Sales was established in 1989 in Shipshewana, Indiana. An Amish, family-owned furniture business, Weaver offers a full line of solid wood, Amish furniture at affordable prices. And Weaver caters to both residential and commercial customers. The company features Shaker, Mission and Traditional furniture styles. As part of their client services, Weaver provides furniture design consultation services, custom furniture options, furniture quotes, layaway options and various delivery alternatives for residences and businesses in the United States.
LeRoy and Ida Weaver own and operate Weaver Furniture Sales. They began with a 1,500 square foot showroom, which has been expanded to more than 15,000 square feet. Previously, they owned and managed LeWana Dairy Farm, where they milked cows and raised corn and hay.
Share article on social media or email: