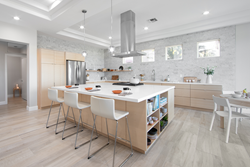 "The originality of design and the quality of these kitchen and bath projects were exceptional"
HARRISBURG, S.D. (PRWEB) October 29, 2019
Categories featured a wide variety of kitchen and bath designs, along with a designation for the best new dealer entry and a judges' choice award for best overall design, which was presented to Julie Leverett at ONE eleven ltd. in Las Vegas for her contemporary kitchen design.
"The originality of design and the quality of these kitchen and bath projects were exceptional," said Paul Sova, president and CEO of Showplace Cabinetry. "It's important to remember that all the design entries were from actual projects, placed in homes across the nation. The pride of the designers in creating functional and beautiful rooms for their clients shows through in each entry."
Showplace Cabinetry sponsored the design contest for all sales and design professionals employed by authorized, independently-owned Showplace kitchen and bath dealerships, with all entries judged by a national panel of design professionals. The judging panel and the names of all the winners, with photos of their winning kitchen and bath projects, can be viewed on the Showplace website. The contest was open to all kitchen cabinet and bathroom vanity projects installed between January 1, 2018 and June 30, 2019.
The designers were asked to submit a variety of materials for judging, including professional imagery. The panel of peer-group design professionals judged each entry on visual appeal, creativity, workflow and design elements. Categories for the 110 projects entered in the first annual Showplace Cabinetry Design Contest were chosen to represent designs for kitchen cabinets and bathroom vanities in traditional, contemporary and transitional styles, along with best small kitchen.
"Showplace Cabinetry congratulates every one of the designers who participated in the contest," Sova said. "Each is a winner for using Showplace cabinetry in so many creative and beautiful designs!"
About Showplace Cabinetry:
Showplace custom and semi-custom cabinetry for the home is sold through independent kitchen and bath dealers in all 50 states and parts of Canada. Every cabinet is made-to-order to fit the individual homeowner's specific style and space requirements. Mid-priced Showplace is among the largest of American-made cabinet manufacturers. For more on Showplace Cabinetry or the company's full range of door styles, wood species, colors and finishes, go to ShowplaceCabinetry.com.
Showplace has 604 employees with three manufacturing facilities, two in Harrisburg, SD with the third in Beresford, SD. The company also owns and operates five retail showrooms, called Showplace Cabinetry Design Center, located in Harrisburg and Sioux Falls, SD; Urbandale, IA; Parker, CO; and Fargo, ND.
Share article on social media or email: